Health and Wellness
With an increasing emphasis on healthier and safer products, PGP International, Ohly and ABITEC Corporation produce a range of ingredients derived from high quality sources for customers in the nutritional, pharmaceutical and nutraceutical industries.
PGP International's PAC-GEL® product is a multifunctional pre-gelatinised rice flour, which is gluten free with hypoallergenic properties and low microbial levels. It's the perfect ingredient for sauces, gravies, salad dressings and baked goods, and can also be used as an excipient in dietary supplements and nutraceutical products.
Ohly produces a range of nutritional yeast products which are rich in essential amino acids and a great source of dietary fibre. Their AUXOFERM® yeast powder has a subtle nutty, cheese like flavour and contains micro nutrients such as magnesium, calcium, zinc and iron. It is also available as AUXOFERM® vitamin yeast powder, which is enriched with vitamins B1, B2, B6 and niacin.
The company also produces AUXOFERM® Saccharomyces boulardii, an active probiotic yeast for use in the treatment of specific gut and digestive diseases. The yeast activates the host's innate immune system, while also improving the consumption of nutrients by stimulating the release of digestive enzymes.
ABITEC's wide-ranging portfolio offers extended functional and nutritional benefits to an array of applications in the functional food, supplement, and nutrition markets as bioavailability enhancers, solubilizers, food emulsifiers, and alternative energy sources. We offer a full line of Medium Chain Triglycerides (MCTs) and an entire portfolio of nutritional powdered lipids. Our products are utilized throughout the Sports Nutrition, Weight Wellness, and Dietary Supplement markets.
PGP International specialises in developing a wide range of extruded ingredients including cereal and protein crisps, as well as an assortment of high quality rice based flours and blends in addition to gluten free products.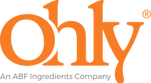 Ohly is one of the world's leading suppliers of yeast extracts, yeast based flavours and specialty powders for the food, fermentation, health and animal feed markets globally.
ABITEC is a global manufacturer of a wide range of specialty ingredients for the pharmaceutical, nutraceutical and industrial markets.