Health, safety, and wellbeing
Our people, including our partners and suppliers, are the lifeblood of our organisation, and we must do what we can to protect them and their livelihoods. We strive for zero harm in the workplace because that's what our people have a right to expect.
Our leaders set the tone for a safe and healthy working environment, promoting good health and wellbeing across our sites globally. We continually monitor our safety performance, talk about it, recognise good practice, and ask everyone to take responsibility for improving safety.
In 2021, 85% of our sites recorded zero lost-time injuries, which means no employees missed work because of an injury inflicted in the workplace at these sites. Our approach goes beyond striving to eradicate accidents and injuries – we also focus on what we can do to enrich the lives of our employees. Our businesses implement initiatives to improve the physical and emotional health and wellbeing of their people, aligned with SDG 3: Good Health and Wellbeing, target 3.4.
A safety-first culture
Our safety-first culture starts with our leadership, who implement strong safety governance and set a high bar. A high level of engagement and personal accountability throughout all levels of our organisations create safe and healthy workplaces. We consider behavioural safety a fundamental element of good safety management, equipping our employees with the knowledge and resources they need to make informed, rational decisions that help improve the safety of their work tasks.
Following interviews with all employees during 2019, ABF Ingredients created a Safety Culture programme. To help employees evaluate acceptable risks, a multi-skilled team developed a comprehensive safety risk matrix with straightforward safety questions that employees should always ask in workplace situations, for example, when dealing with electricity, working at height, or handling moving parts. These questions were collated in an information booklet with a clear matrix to help employees decide whether to perform a task or request further advice. This simple but effective pocket tool is now used across ABF Ingredients by people working in many different roles.
A collaborative and continuous approach
We believe commitment to a culture of continuous improvement in our safety performance is critical. Our approach goes beyond a vision – we put practical measures in place. As a devolved yet connected collection of businesses, our community of health and safety leaders share information and experiences so that everyone across ABF Ingredients benefits from enhanced safety practices. The safety performance of our businesses is regularly monitored throughout the year and this information is shared across ABF Ingredients from leadership to the factory floor. This visibility means that everyone is aware of the group's safety performance and helps with the sharing of ideas for improvement. Our community of health and safety leaders meet throughout the year and identify practical solutions to common safety issues.
Health & Safety Recognition Awards
Positive recognition is an essential part of a well-functioning safety culture. Our annual ABF Ingredients Health & Safety Recognition Awards reward individuals or team performances for initiatives and innovation in safe working practices.
Since 2017, we have received nearly 100 submissions from our businesses. The rewards programme highlights exemplary work across all our sites so that everyone learns from the excellent practice. The categories include innovation, performance, and ambassadors to recognise individuals for their ideas and commitment. Simple, everyday good practices and improvements are celebrated, as well as larger scale, innovative changes.
The Six Safety Essentials
Our Six Safety Essentials toolkit identifies the core safety considerations in our working environments. Each business depends on the framework to brief employees and contractors. It's a system that quickly addresses potential hazards and behaviours of concern, so we can take action to mitigate them.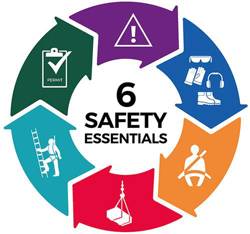 Wellness and wellbeing
Our businesses deliver a range of programmes to improve our employees' mental and physical health. While the approach may vary, the theme of these programmes aims to increase awareness of positive and healthy behaviours.
At Ohly, employees have access to a wellbeing programme that includes company doctor visits and health checks, a back-to-work process after a long-term illness, and psychological work environment assessments. The programme also organises sporting events and provides frameworks to help employees stop smoking.
The SPI Pharma's Employee Wellness programme promotes healthy behaviours for the mind and body. Nutrition sessions, exercises classes, and biometric testing help employees reach personal goals. We're expanding our existing wellbeing at work practices in our all businesses, delivering employee surveys to understand what else we can improve and looking for opportunities to create common programmes across our businesses.