Grains and Oil Seeds Processing
In a sector with a wide range of different manufacturing processes, AB Enzymes matches the exacting needs of its customers by offering specialist enzyme products that increase processing performance and optimise plant efficiency.
The company's ROHALASE® products have been designed to optimise the performance and increase the efficiency of customers' processes, while also helping them to reduce their energy and water consumption.
For grain processing applications, xylanase enzyme products reduce viscosity and optimise yields and purity in starch-gluten separation processes. lyso-phospholipase enzyme is the ideal product for improving the filtration and clarity of the customer's final glucose syrup product.
AB Enzymes' phospholipase is used in vegetable oil processing applications to optimise yields in the degumming of a variety of vegetable oils, including soy, rape, sunflower, and rice bran. The product helps reducing phosphorous levels and minimising fouling and scaling of processing equipment.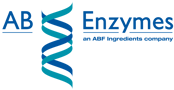 AB Enzymes is an industrial biotech company specialized in enzymes and their applications in focused markets.