Surfactants and Emulsifiers
ABITEC Corporation's surfactants and emulsifiers are widely used in personal care, cleaning and metalworking. You can even call on their expertise to develop and improve your own products.
Surfactants are used in a variety of products to help trap and remove oil or dirt. Applications range from personal care and cosmetic formulations to metalworking fluids and household or industrial cleaners. ABITEC Corporation specialises in emulsifiers and surfactants based on natural, renewable raw materials including sulphate-free and EO-free formulations.
ACCONON® nonionic surfactants are based on natural oils such as coconut, apricot or castor oil. In addition to functioning as excellent oil/water emulsifiers, many of these products can improve the emollient action of creams and lotions. They also offer a good option for detergents intended for use at lower temperatures.
CAPMUL® multi-functional lipids will alter the viscosity of liquids and may also have anti-microbial properties. Largely based on natural materials, these products can act as carriers in personal care products and cosmetics, producing stable emulsions which provide good emollient action. In addition, they also provide a natural, non-toxic option in the formulation of metalworking cooling fluids.
CAPROL® polyglycerol esters work as EO-free emulsifiers are a useful alternative for formulators seeking to reduce or eliminate ethylene oxide (EO) from cosmetics and personal care products.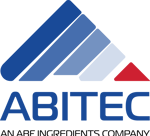 ABITEC is a global manufacturer of specialty lipid ingredients for the pharmaceutical, nutritional, personal care, and industrial specialty markets.  ABITEC delivers a wide range of solutions in solubilisation, emulsification, and lubrication.