Specialty Flours
Natural rice based flours that are free from chemical additives make up PGP International's range of PAC® branded products, which are ideal for food and non food applications.
PGP International offers a variety of functional flours for the food and nutraceutical industry.
Their pre-gelatinized rice flours, under the PAC® brand, are a natural alternative to chemical additives which can be used to improve the taste and texture of food products such as ice-creams, biscuits and instant beverages.
The PAC® range includes:
PAC-GEL® – a water binding agent and emulsifier which can mimic fat and generate a smoother, creamier texture making it ideal for soups, sauces, instant beverage mixes and baby food.
PAC-STAR® – a natural stabilising agent that improves mouthfeel and body in sports and nutritional supplements as well as dairy replacement drinks and ice cream.
PAC-FRESH® – a natural dough conditioner and fat replacer which will enhance texture in specialty breads such as croissants.
PGP International also produces a wide range of rice flours and rice meals including organic and gluten-free options. These products are designed for use in bakery mixes, cereals and energy and nutritional bars. They can be made from different rice varieties and produced in different particle sizes, from very fine to very coarse.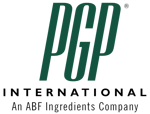 PGP International specialises in developing a wide range of extruded ingredients including cereal and protein crisps as well as an assortment of high quality rice based flours and blends in addition to gluten free products.