What Do We Offer ​​?
Working in a place where your contribution is valued means you're continuously exposed to opportunities. You'll get chances to progress your career because you're working in a dynamic sector, a successful company, and a place where people thrive.
Here, you'll benefit from feeling like you are in a small business, but with access to the network and wealth of expertise that you get in a larger organisation.
Working within the ABF Ingredients group of companies, as well as the wider Associated British Foods (ABF) organisation, means the opportunities keep on multiplying – globally. Many people who start with us go on to work with other ABF companies across the globe. And equally, we happily absorb the expertise of those who move across ABF to come to work with us. This cross-fertilisation keeps all our businesses refreshed and dynamic.
Reaching your full potential
Learning and development is embedded within our culture. Whatever your role, we will help you reach your potential, with plenty of opportunities for career enhancement and continuous development. Working within one of our relatively small businesses will give your role breadth, expanding your scope and expertise. You will have regular conversations about how to enhance your development and your career.
Our two-way mentoring programme helps you to leverage the expertise of others while sharing your own knowledge and experience.
Our Learning Programmes
Formal training courses, like those listed below, offer a great chance to consolidate your learning and further expand your network: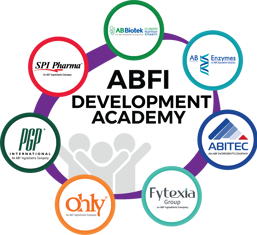 ABFI Leadership Academy – developing first-line supervisors into senior leaders. Based on a set of solid leadership principles, it has over 60 leadership development courses which can be delivered in multiple languages by our network of 32 in-house accredited facilitators. It also offers a library of tools and resources.  
ABF Finance Excellence – developing a pipeline of finance leaders across ABF with the capability to take on broader and bigger roles in the future.
ABF HR Commercial Acumen – enabling functional HR employees to strengthen their capability as true business partners.
ABF Executive Leadership – helping senior leaders from any function to develop their skills and lead our businesses now and into the future.
Diversity and inclusion flourish here
We aim to have and maintain a diverse workforce which is inclusive, engaged and high performing. 
96% of our people recognise that we support diversity and inclusion1.
42% of our leaders throughout the division are female2.
We do everything we can to provide a safe work environment where respect and fairness are honoured, and where every individual has the opportunity to maximise their potential. Irrespective of where you started in life or the setbacks you may have faced, we offer support to grow and develop through our study sponsorship programme.
Whoever you are, you will find acceptance within our culturally diverse teams. We are building our future success around diverse teams that reflect our customers, and the people that use our products and services around the world. But we are never complacent and continue to drive improvement through education and example, to make sure that everyone can contribute their best selves.
You will get to learn from people with different perspectives while being offered plenty of opportunities to develop your career within the group. You will also find supportive employee-led groups such as the ABF Women's Network which runs across the UK, Europe and North America.
Find out more about Diversity, Equity and Inclusion in our organisation
1. ABFI Head Office Employee Engagement Survey November 2021
2. 2021 data including all businesses within ABF Ingredients Division