Polyphenols
Polyphenols are micronutrients found in plants which can have notable health benefits. Fytexia Group use these botanical polyphenols to produce a range of functional ingredients for dietary supplements and healthcare products. 
Fytexia Group's team of experts partner with a global network of researchers following the most stringent scientific principles and practices to develop products across three main health areas:
Body Composition and Metabolism
Sinetrol® helps to reduce excess fat mass and improve long-term body composition.
DNF-10® helps to lower calorie intake and reduce body fat mass.
Nutritional Supplementation
Oxxynea® provides a variety of polyphenols equivalent to the daily consumption of five portions of fruit and vegetables.
Rosiom® is a pre-biotic fibre which provides proven benefits for the immune system and cardiovascular health.
GOS 70 are prebiotics which have been shown to facilitate the growth of healthy gut bacteria.
Quality of Life
Fiit-ns® combine the action of polyphenol plant extracts and vitamin B3 to maintain metabolic markers during the aging process, improving energy levels to promote better quality of life.
Mangoselect® is made of xanthones from mangosteen extracts and is proven to alleviate joint discomfort associated with the body's natural inflammatory response.
TensLess® is a plant-based ingredient proven to ease joint and muscle soreness after exertion or intense activity.
Propolis M.E.D.® is a propolis extract, standardized in polyphenols, with clinically proven benefits for upper respiratory tract infections (URTIs).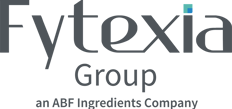 Fytexia Group is a life sciences company specializing in the research and scientific validation of bioactive compounds, including polyphenols.