Enzymes
Enzymes have long been used by industrial product makers as catalysts to efficiently transform raw materials into ingredients and end products.
Thanks to their ability to improve and optimise processes, enzymes can help when dealing with challenges and fluctuations in cost, supply, or quality of raw materials.
AB Enzymes develops enzyme products for food, animal feed and technical applications. The company provides a wide range of products enabling customers to select the best enzyme solution according to their manufacturing and product requirements.
AB Enzymes offers food-grade enzymes for baking and flour milling as well as a variety of food applications ranging from beverages to protein modification and production of value-added ingredients. The company also provides solutions in animal feed and various technical applications: pulp and paper, textiles and laundry detergents.
Baking and flour milling: VERON® baking enzymes offer key technology to help customers streamline processes in a sustainable way. They have been playing an essential role in baking for decades: driving differentiation and innovation in baking improvers; enabling flour standardisation; and facilitating more flexibility in biscuit and wafer manufacturing.
Plant-based food: COROLASE®, ROHALASE® and ROHAMENT® enzymes help food manufacturers maximise the potential applications of plant-based raw materials, especially plant-proteins. They can improve functional and nutritional properties to make these products more appealing to consumers.
Animal protein processing: COROLASE® enzymes help manufacturers recover by-products from food processing to reduce waste and create value-added products like collagen peptides or fish oil.
Fruit juice and wine: ROHAPECT® and ROHAVIN® enzymes are widely used in the fruit and vegetable processing industry as well as in winemaking. They help producers to get more from less raw material in the form of increased juice yields, shorter processing time and improved product quality.
Grain processing: ROHALASE® and ROHAMENT® enzymes are used in grain and oilseed processing to optimise performance and increase efficiency while also helping to reduce energy and water consumption.
Pulp and paper: ECOPULP® enzymes are used across a broad range of chemical and mechanical pulp applications for both paper and recycled grades. They enable pulp and paper producers to decrease energy consumption, reduce costs, improve machine runnability and create new or enhanced quality specifications. 
Laundry detergents: BIOTOUCH® detergent enzymes deliver unique solutions for fabric maintenance and stain removal which makes it possible to wash clothes at lower temperatures without compromising cleaning performance. Requiring less energy to heat water, these enzymes do not have added biocides, so the wastewater returned to watercourses does not damage ecosystems and biodiversity.
Textiles: ECOSTONE® enzymes are highly effective in creating a rich variety of effects on denim. They work at low temperatures and enable textile manufacturers to reduce water usage as well as speeding up the process and using less energy.
Animal feed: ECONASE®, QUANTUM® and FINASE® are enzymes used in animal feed. These have become an important tool for improving animal feed efficiency, reducing feed costs whilst maintaining or improving animal performance.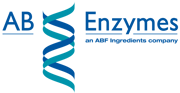 AB Enzymes is an industrial biotech company specialized in enzymes and their applications in focused markets.