Detergents
Our customers are constantly demanding better performing, higher quality detergent products. AB Enzymes is at the cutting edge of research and development into new, specialised BIOTOUCH® enzymes for fabric maintenance and stain removal that provide high performance for optimised, high-quality detergent products.
BIOTOUCH® detergent enzymes deliver unique solutions that perform over a broad range of temperatures, remain stable under variable and extreme conditions, are cost-effective, remove difficult stains and have a neutral odor. Our portfolio comprises a range of high-quality enzyme products and preparations, all manufactured using state-of-the art technologies that support sustainability and efforts for a cleaner environment, and reduce our own and customers' environmental footprint.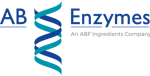 AB Enzymes is an industrial biotech company specialized in enzymes and their applications in focused markets.