Detergents
Our customers are constantly demanding better performing, higher quality detergent products. AB Enzymes is at the cutting edge of research and development into new, specialised enzymes for its groundbreaking BIOTOUCH® liquid and powder detergents.
In 2011, AB Enzymes launched its specialist Detergent Enzyme Solutions (DES) unit in response to its customers' demands for better performing, higher quality detergent products.
The role of DES was to research and develop new specialised enzymes – such as cellulases, mannanases and lipases – to complement the company's existing protease and amylase products, and give customers a greener and more effective alternative to traditional, chemistry based solutions.
The result was a unique range of liquid and powder detergent products marketed under the BIOTOUCH® brand.
Each BIOTOUCH® product has been specifically developed to remove stubborn stains even at low temperatures, remain stable in extreme conditions and have a neutral odour. And, as they are all based on enzyme proteins, they're fully biodegradable and non toxic to the environment.
BIOTOUCH® products are particularly suited to customers in the home laundry sector as they perform at their best between 20ºC and 40ºC, and meet the latest standards for energy saving in modern household laundry products. They also perform equally well in soft or hard water areas, and the enzyme's natural stability means the products can be safely stored for long periods without any loss of performance.
All BIOTOUCH® products are available directly from AB Enzymes or through its network of approved distributors.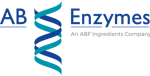 AB Enzymes is an industrial biotech company specialized in enzymes and their applications in focused markets.