Pulp and Paper
Customers around the world are increasing their efficiency and competitiveness in the pulp and paper sector by taking advantage of AB Enzymes' environmentally responsible, state of the art enzyme products.
From chemical and mechanical pulp applications to paper and recycled grades, the company's technologically advanced enzymes help its customers improve their performance, profitability and competitiveness while reducing their everyday running costs.
The ECOPULP® range of enzymes includes cellulases, which help reduce damage to paper fibre, and xylanases, which maintain pulp brightness but cut down on the need for additional chemicals.
AB Enzymes works closely with customers, research institutes and universities alike to understand their changing needs and bring the next generation of new, innovative products to the market.
Supported by the expertise of its sales and technical teams, AB Enzymes continues to develop environmentally and economically sound enzyme products that will have a significant and positive impact on the the pulp and paper industry.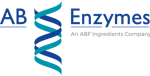 AB Enzymes is an industrial biotech company specialized in enzymes and their applications in focused markets.