Textiles
Consumers and the textiles industry are always on the lookout for more eco friendly products and processes. AB Enzymes has risen to this environmental challenge with the launch of a superb range of biodegradable enzyme products.
The growing eco-friendly trend has led AB Enzymes to develop its ECOSTONE® and BIOTOUCH® enzyme products, which are both biodegradable and harmless to the environment.
ECOSTONE® and ECOSTONE® LT300 are used in the denim wash process and contain both neutral and acid enzymes to give denim finishers the flexibility to use different washing parameters. Neutral ECOSTONE® gives fast, superior stone washing results and is particularly suited to high output finishers.
ECOSTONE® LT300 has been specially developed for low temperature processes and can help cut customers' heating costs without affecting performance.
BIOTOUCH® products come in high concentration level solutions so customers can make up their own bespoke formulations. Used in the cellulose based textile finishing process, the products help keep fabrics and garments smooth and pill free so they last longer. The company's BIOTOUCH® OSB7 high performance enzyme product is the ideal choice for combining dyeing with strong depilling.
All of AB Enzymes' advanced enzyme formulations provide the textiles industry with high performance products that are clean, safe and cost effective.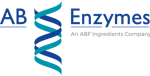 AB Enzymes is an industrial biotech company specialized in enzymes and their applications in focused markets.