Enzymes
Enzymes have long been used by industrial product makers as major catalysts to transform raw materials into end products. AB Enzymes develops enzyme products for food, animal feed and technical applications. They provide products in a range of compositions to enable you to select the enzyme solutions that best fit your manufacturing and product requirements.
AB Enzymes' products range from food-grade enzymes for baking, fruit juice processing, grains-, vegetable oil seeds- and protein processing, to enzymes for animal feed and technical applications: pulp and paper, textiles and laundry detergents.
VERON® baking enzymes have obtained the best results in different cereal-based industries and application segments for the last 30 years. Enzymes play an essential role in modern baking technology and have done so for many years. Enzymes are key technology products in many baking improver formulations.
ECOPULP® enzymes are used across a broad range of chemical and mechanical pulp applications for both paper and recycled grades. The enzymes enable pulp and paper producers to meet some of their major challenges, including those related to reducing costs, improving machine runnability and creating new or enhanced quality specifications, ultimately leading to increased mill profitability and competitiveness.
ROHALASE® and ROHAMENT® non-starch polysaccharide enzyme products are applied in the different grain and oilseed manufacturing, and brewing and distilling processes to optimise efficiency and increase performance. 
BIOTOUCH® detergent enzymes deliver unique solutions that perform over a broad range of temperatures, remain stable under variable and extreme conditions, are cost-effective, remove difficult stains and have a neutral odor.
COROLASE® protease enzyme products allow you to select the right solution for your protein hydrolysis and modifications.
ECOSTONE® consists of neutral, acid and low temperature enzymes that are highly effective in creating a rich variety of effects on denim, providing denim finishers with the flexibility to use a wide range of washing parameters, depending on the precise requirements of their processes.
ROHAPECT® and ROHAVIN® pectinase and non-starch polysaccharide enzymes provide you with a complete set of solutions for enzyme applications in fruits and vegetables such as pommes, berries, stone fruits, citrus fruits, tropical fruits, grapes, and carrots.
ECONASE®, QUANTUM® and FINASE® are feed enzymes have become an important tool for improving animal feed efficiency, reducing feed costs whilst maintaining or improving animal performance.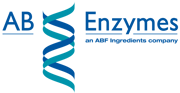 AB Enzymes is an industrial biotech company specialized in enzymes and their applications in focused markets.