Enzymes
Enzymes are arguably the most important group of proteins and AB Enzymes helps its customers create more eco friendly products using natural, biodegradable enzyme solutions.
Their function is to speed up chemical reactions, but they are highly specific and might only react with certain – or even a single – substance. They work in mild temperature and pH conditions without the need for harsh chemicals and, as natural proteins, they are fully biodegradable.
AB Enzymes produces a range of enzyme products that play a huge role in the manufacture of foodstuffs, beverages and textiles. For example, they can make sure that bread stays fresher longer, or they can be used to make fruit juices clearer. They can even be used to give jeans a better stonewashed look.
The company's vast product range includes brands like VERON®, ROHALASE®, ECONASE®, ECOSTONE® and ECOPULP®, which are used in a variety of different applications such as:
Animal feed
Baking
Beverages
Pulp and paper
Special enzymes for the food industry
Textiles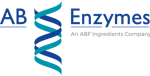 AB Enzymes is an industrial biotech company specialized in enzymes and their applications in focused markets.