Enzymes
Enzymes have long been used by industrial product makers as major catalysts to transform raw materials into end products. AB Enzymes develops enzyme products for food, animal feed and technical applications. They provide products in a range of compositions to enable you to select the enzyme solutions that best fit your manufacturing and product requirements.
Their product brands provide many benefits in food, feed and technical industries:
VERON® for baking, flour milling and pasta
ROHAPECT® for fruit and vegetable processing
COROLASE® for protein processing and modification
ROHALASE® for malting, distilling, grain and oilseed processing
QUANTUM® and ECONASE® for animal feed
ECOPULP® for pulp and paper
BIOTOUCH® for detergents
ECOSTONE® for textiles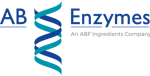 AB Enzymes is an industrial biotech company specialized in enzymes and their applications in focused markets.